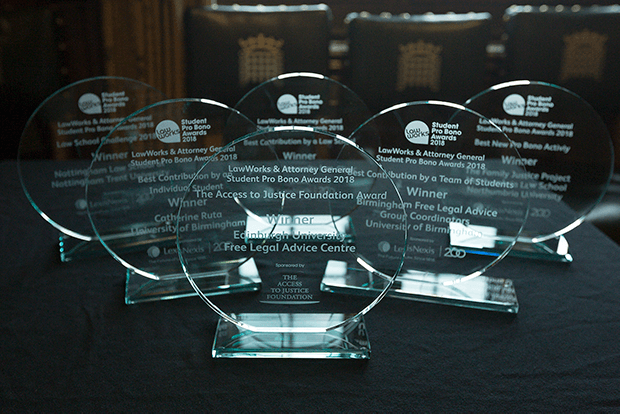 The exceptional contribution of law students and law schools to pro bono legal advice was celebrated at the annual LawWorks and Attorney General Student Pro Bono Awards, held at the House of Commons on May 1st.
Hosted by High Court Judge Sir Robin Knowles CBE, the awards were presented by the Attorney General, the Rt Hon Geoffrey Cox MP QC and the Solicitor General, Robert Buckland QC MP.
Sponsored by Lexis Nexis, the awards also incorporate the Access to Justice Foundation Award for an educational body or student which has made a significant contribution to promoting access to justice. The winners of Advocate and LawWorks Law School Challenge 2018 – 2019 were also presented with an award at the event.
Of over 240 clinics in the LawWork clinics network, 41% of clinics in the network are law school-based clinics and, collectively, they dealt with over 19,000 enquiries last year. Student clinics provide advice in a variety of areas such as family, welfare benefits, employment, housing and small claims.
The Attorney General, the Right Hon Geoffrey Cox QC said:
"I am very proud of the Attorney General and LawWorks Student Pro Bono Awards which provide an opportunity to celebrate the pro bono work of students. Pro bono is part of being a lawyer - it not only has a practical and beneficial impact on people's lives and access to justice, but also supports the rule of law. Early experience of pro bono can instil a passion and commitment that can last a whole career. I wholeheartedly congratulate the winners on their achievement."
Alasdair Douglas, Chair of LawWorks said
"LawWorks received a large number of high-calibre nominations and the quality and impact of the projects nominated was hugely impressive and inspiring – all those nominated or shortlisted deserve congratulations and appreciation for their work. The judges had a difficult task – but special congratulations to this year's winners of the 2019 LawWorks and Attorney General Student Pro Bono Awards."
The winners and runners up are listed below
For a complete list of all the nominees please download a copy of the awards programme.
The winners are:
Best Contribution by a Law School: School of Law, Queen Mary University of London
Queen Mary University run a Legal Advice Centre, at which around 300 undergraduate law students are involved giving supervised free legal advice to 350 clients a year. The University also runs two public legal education ] programmes engaging with students at primary and secondary schools.
The runner up was Nottingham Law School, Nottingham Trent University.
Best Contribution by a Team of Students: Swansea Law Clinic, Hillary Rodham Clinton School of Law, Swansea University
A team of two from Swansea Law Clinic contributed over 750 hours of their time including drafting initial advice letters, providing assistance at the Litigant Helpdesk at the local Civil Justice Centre, assisting in a Legal Aid Exceptional Case Funding Clinic, and volunteering their time their time to enable the Law Clinic to remain open over the summer.
The runners up were Plymouth Law Clinic Refugee Family Reunion Project.
Best Contribution by an Individual Student: Giulia Mazzu – Dickson Poon School of Law, King's College London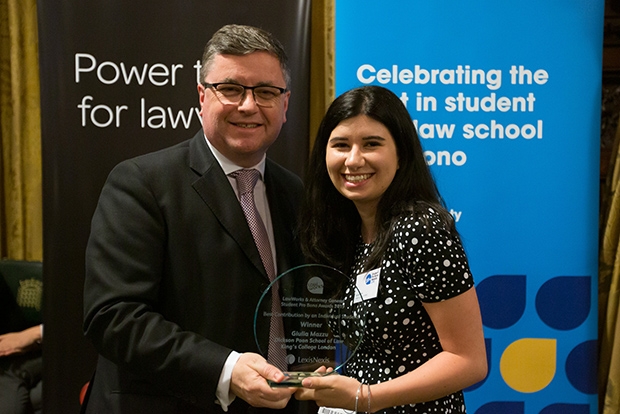 Giulia's volunteering includes legal research for Action4Justice, being a caseworker with the Freedom Law Clinic assisting preparation of cases for referral to the Criminal Cases Review Commission, an internship at the Stahill Foundation which works to stop orphanage trafficking in Kenya, and with the Article 8 ECHR Project at King's College Legal Clinic which provides pro bono representation to immigrants seeking to remain in the UK on human rights grounds.
The runner up was Mozes Salvatore – Westminster Law School, University of Westminster .
Best Legal Tech Contribution: Open Justice Law Clinic, The Open University Law School
The project is a 'virtual' legal advice clinic led by law students under the supervision of qualified solicitors covering advice on contract, tort, consumer and employment law and is accessible to anyone in the UK with an internet connection
The runner up was the Online Project, University of Strathclyde Law Clinic.
Best New Student Pro Bono Activity: Anti-Trafficking Legal Project, Liverpool Law Clinic, University of Liverpool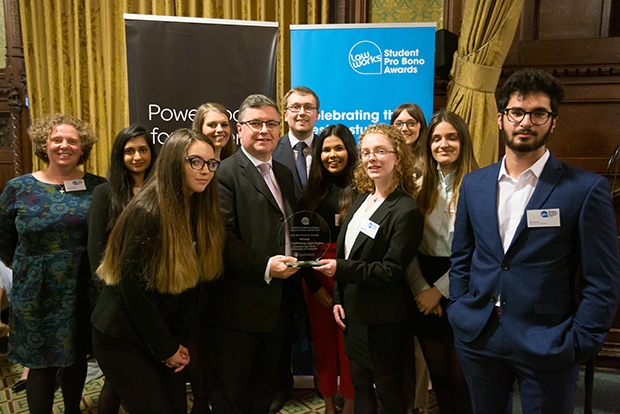 Working with the Red Cross, the project provides support to trafficking victims before they enter the National Referral Mechanism. The project has advised 31 clients. 16 student caseworkers attend interviews with the clients to help prepare statements of evidence, as well as providing research and letters drafting assistance. Student interpreters also attend casework sessions.
The runner up was Anglia Law School Law Clinic, Anglia Ruskin University.
Access to Justice Foundation Award: University of Plymouth Street Law Clinic
The Attorney General also presented the University of Plymouth Street Law Clinic with the Access to Justice Foundation Award which recognises the work of individuals and educational bodies in promoting and supporting access to justice and charities which provide pro bono services. Lucy Chapman, City Law School, was also highly commended.
Law School Challenge 2018/19 Winners: Liverpool John Moores University
Liverpool John Moores University was announced as the winner of the Law School Challenge, a law school led initiative to raise funds for LawWorks and Advocate. The University of Leeds and University of Huddersfield were immediate runners up.
The judges for the 2019 Awards were:-
Christina Blacklaws, President, Law Society
Peter Farr, Trustee, CILEx Pro Bono Trust
James Harper, Executive Sponsor, Rule of Law and CSR for LexisNexis UK & Ireland
Joshua Richman, Senior Editor, LawCareers.Net
Leanne Targett-Parker, Chair, Bar Council Pro Bono Committee
The awards are supported by: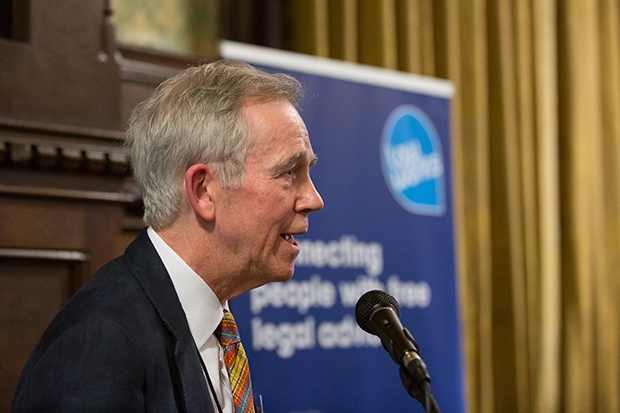 LawWorks Chair, Alasdair Douglas welcomed the guests and started the afternoon awards ceremony.
The Attorney General, the Right Hon. Geoffrey Cox MP, QC congratulated the students.
The awards were hosted by Honourable Mr Justice Robin Knowles CBE.
The Solicitor General, the Right Hon. Robert Buckland MP QC presented the awards.
Alex Chalk MP, Chair of the All Party Parliamentary Group on Pro Bono and Public Legal Education.
James Harper, Executive Sponsor, Rule of Law and CSR for LexisNexis UK & Ireland.