The annual LawWorks and Attorney General Student Pro Bono Awards were celebrated at the House of Commons, on Thursday 27th April.
The awards celebrate the best pro bono activities undertaken by law students and law schools. Supported by the Attorney General, the Rt Hon Victoria Prentis KC MP, the awards were presented by Lord Stewart of Dirleton KC, Advocate General for Scotland, at a ceremony held in the House of Commons.
The Attorney General, the Rt Hon Victoria Prentis KC MP said:
"I would like to say a huge congratulations to all the winners and nominees of this year's awards, organised by LawWorks. I am pleased to see that so many rising legal stars have been recognised tonight. As you embark on your legal careers, I encourage you to continue your excellent pro bono work. Providing your services for free is vitally important to upholding the Rule of Law and ensuring that everyone has equal access to legal advice."
The winners of the 2023 awards are:
Best New Pro Bono Activity: City Community Legal Advice Centre, City University of London
The City Community Legal Advice Centre is a new service consolidating a range of existing clinics and outreaches into one unified service, and is an innovative partnership between the centre, community-based providers, lawyers, and law firms. Advising on 8 areas of civil law including family, employment and welfare benefits, they work in partnership with community-based GP and mental health services, focusing on areas where need is greatest. The Centre operates a hybrid model of face-face and online appointments, where student advisers work under supervision and are trained to conduct client interviews, draft full case summaries, and collate documents. In the past 16 months, more than 330 clients have been advised and more than 200 signposted to community-based services.
The University of Chester and Pregnant Then Screwed partnership and University of Suffolk Legal Advice Centre were highly commended by the judges.
Best Contribution by an Individual: Benjamin O'Connell, University of Essex
Inspired by his experience of being made homeless at 17, Ben has shown exceptional commitment to pro bono work. He began volunteering at University of Essex Law Clinic in October 2020, focusing on housing and family law. Over the past year Ben has taken on more cases than any other volunteer, accounting for more than one fifth of the overall caseload! As Deputy Student Director and then Student Director for the clinic, he has also given a voice to the concerns and interests of student volunteers within the clinic, helping to shape it into a "better institution."
Ben is involved in other projects at the clinic, including relaunching an advice outreach in Jaywick - one of the most deprived areas in England - he also leads the Innocence Project and the Housing and Homelessness Project, which operates in partnership with local charity Beacon House, Ben has been key to expanding this collaboration, visiting weekly. Last summer he undertook to review over 150 casefiles to improve the provision of emergency s188 accommodation to clients in priority need. Beacon House says this project transformed the local authority's approach, resulting in more street homeless clients being accommodated on an urgent basis.
Daniel Scrase, BPP University and Amy Woodcock, University of Strathclyde were highly commended by the judges.
Best Contribution by a Law School: University of London Refugee Law Clinic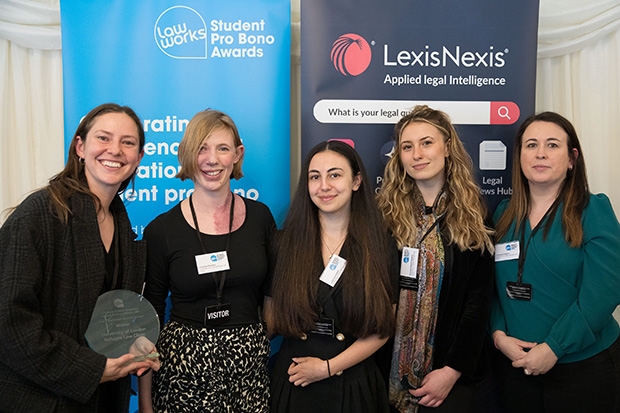 The Refugee Law Clinic at the University of London is a clinical legal education project providing pro bono advice to appeal-rights exhausted asylum seekers in London. The clinic also provides training and practical experience for 50 law students and 40 volunteer lawyers each year.
Established in 2020, the clinic's main legal focus is on advising and preparing fresh claims for asylum, an area consistently identified as underserviced in the current legal landscape. The clinic takes on a high volume of casework and its current caseload of 45 comprises clients from over 20 countries ranging from 20 to 73 years of age. The clinic actively engages with over a dozen referral partners who have reported that the service makes a significant difference in being able to obtain legal advice for cases where it has been difficult to find support.
The Ulster University Law Clinic, Ulster University were highly commended by the judges.
Best contribution by a Team of Students: The Immigration Project, University of Chester and Eastgate Chambers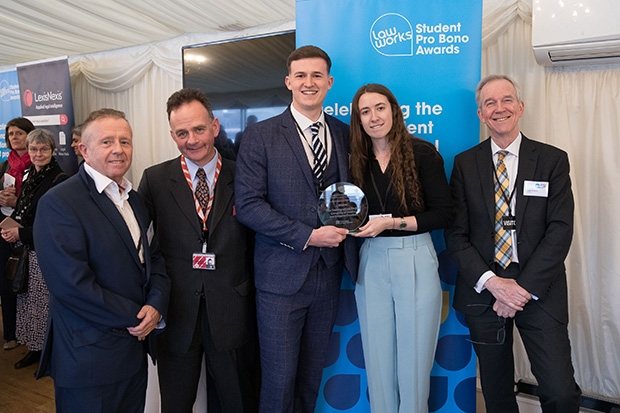 The Immigration Project is a partnership between the University of Chester and Eastgate Chambers (responsible for delivering the Legal Aid contract for Immigration and Asylum cases across North Wales). The five students involved in the Immigration Project this year have made an outstanding contribution to pro bono by assisting 60 refugees to claim Indefinite Leave to Remain and/or Permission to Work since August 2022. The majority of those assisted fled the war in Syria and were offered asylum under the government's Syrian Vulnerable Persons Resettlement Scheme. The student volunteers are led by a student Project Manager and assist a Legal Aid caseworker in his work with refugee clients. The students' input into the Immigration Project enables the Legal Aid caseworker to move through his client list much more efficiently, thus ensuring refugee clients are provided with the assistance they need more quickly.
The School Exclusion Project, City University of London and the Liverpool Family Advice Project at University of Liverpool were highly commended by the judges.
Advocate and LawWorks Law School Challenge: Bloomsbury Campus, The University of Law
Find out about all the nominees in the

LawWorks and Attorney General Student Pro Bono Awards programme
The LawWorks Student Pro Bono Awards are sponsored by LexisNexis.
The judges for the 2023 Awards are:
Toby Brown, Chair of National Pro Bono Week and Member of the Pro Bono and Social Responsibility Committee;
Peter Farr, Head of Civil Law Policy, Ministry of Justice;
James Harper, Executive Sponsor, Rule of Law and CSR for LexisNexis UK & Ireland;
Olivia Partridge, Content Manager, LawCareers.Net;
Emma Rehal-Wilde, Senior Pro Bono Associate, Baker & Mackenzie LLP and LawWorks Trustee;
Lubna Shuja, President, The Law Society of England and Wales; and
Deborah Smith, Executive Director and Senior Counsel, Goldman Sachs and LawWorks Trustee.
Need to get in touch?
If you have a question about the awards, please contact:
Peter Jackson, Communications Officer, 020 7092 3952
The LawWorks and Attorney General's Student Pro Bono Awards are sponsored by: