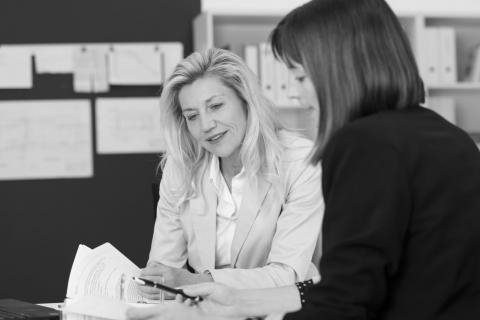 Dentons is pleased to announce the launch of a second PopLaw Legal Advice Clinic in the London Borough of Tower Hamlets. The launch of the new clinic, based in Whitechapel, follows the overwhelming success of the firm's first legal advice clinic, which takes place weekly at Poplar. The clinic is part of the LawWorks Clinics Network which dealt with 53,000 individual enquiries at clinics in the period between April 2015 and March 2016, a 24% increase on the previous year.
With the support of LawWorks, Dentons set up PopLaw in 2006 and LawWorks have provided continued support for the development of the second clinic. Both the Poplar and Whitechapel clinics are run by volunteers from Dentons with administrative support from law students from Queen Mary's University.
The area served by PopLaw faces particular challenges with over half of children in the ward living in poverty (Source: Tower Hamlets Fairness Report 2014). The ward is the 14th most deprived in London (Source: Greater London Authority figures) and through this initiative, Dentons' lawyers have provided free legal advice to more than 4,500 clients from across Tower Hamlets who may not be able to access or afford it.
Like the Poplar clinic, the Whitechapel clinic will provide local residents with legal support on issues including debt, housing, consumer matters, employment and welfare benefits and will take place at the Idea Store in Whitechapel every Monday evening from 6.15pm to 8.15pm starting from Monday, 6th February 2017.
Commenting on the launch of PopLaw Whitechapel, Dentons' UK managing partner Brandon Ransley said, "We are delighted to be launching a second PopLaw Legal Advice Clinic. We have seen a huge increase in demand for free legal advice in the wake of recent cuts to the legal aid system. While pro bono is not an alternative to legal aid, a growing network of local clinics – such as Poplaw – make a positive difference for thousands of people who would otherwise struggle to access advice and support.
Dan Bodle, co-chair of Dentons' UK CSR Committee, said, "The client feedback we have received from the Poplaw clinic over the last ten years has been excellent. Local leaders in Tower Hamlets as well as those residents we have helped tell us that this is a hugely valuable service, and we are very pleased to be able to expand the clinic. Our volunteers put a lot of time and effort into providing this service and their dedication is what makes PopLaw a success."
Martin Barnes, LawWorks Chief Executive said, " LawWorks is proud to be involved with PopLaw Whitechapel which will build on the success of the first PopLaw clinic and continue to provide a valuable and much needed service, enabling vulnerable people access to advice and support. The free advice clinic is an excellent example of how law firms can work collaboratively with law schools and a testament to partnership working."
- Ends -
Notes to editors:
1. PopLaw Whitechapel launches on 6th February 2017. Details of the PopLaw Clinics can be found at the following links:
PopLaw Legal Advice Clinic
https://www.lawworks.org.uk/legal-advice/individuals/poplaw-legal-advice-clinic

PopLaw Whitechapel Legal Advice Clinic
https://www.lawworks.org.uk/legal-advice/individuals/poplaw-whitechapel-legal-advice-clinic

2. PopLaw Whitechapel takes place at the Idea Store in Whitechapel every Monday evening. The original PopLaw (Poplar) clinic takes place at the Idea Store, Chrisp Street, in Poplar every Tuesday evening: https://www.ideastoreonlinedirectory.org/kb5/towerhamlets/cd/service.page?id=_3AEXKAX5_8
Students from Queen Mary University volunteer within both clinics with administrative tasks/duties whilst all advice is provided by Denton's trainee solicitors and practising solicitors.
3. Dentons is the world's largest law firm, delivering quality and value to clients around the globe. Dentons is a leader on the Acritas Global Elite Brand Index, a BTI Client Service 30 Award winner and recognized by prominent business and legal publications for its innovations in client service, including founding Nextlaw Labs and the Nextlaw Global Referral Network. Dentons' polycentric approach and world-class talent challenge the status quo to advance client interests in the communities in which we live and work. www.dentons.com
4. LawWorks, the solicitor's pro bono charity (https://www.lawworks.org.uk/), supports a growing network of over 220 local independent pro bono advice clinics across England and Wales. The clinics in the LawWorks Network are independent and self-managed. LawWorks' role includes working with stakeholders to help set up new clinics and providing advice and guidance on issues such as regulatory requirements, insurance and volunteer recruitment. LawWorks provides ongoing support where needed, including 'troubleshooting' advice, but also training, networking opportunities and online information and resources. Find a clinic at: https://www.lawworks.org.uk/legal-advice-individuals/find-legal-advice-clinic-near-you
5. Press contact: Valerie Hudson t: 020 7092 3952 e: [email protected]
News features