We have been supported by a number of funders in recent years who have generously donated grants to help us with our aim of providing access to justice to vulnerable people.
We are very grateful to all the funders that have supported us, including: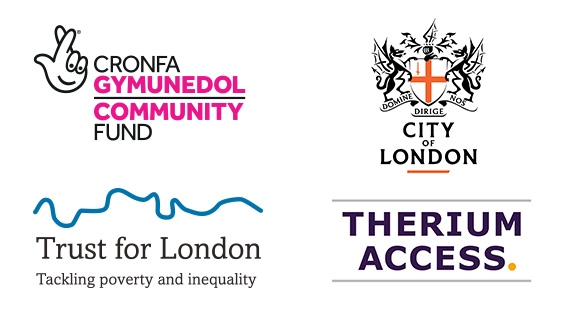 29th May 1961 Charity
Access to Justice Foundation
Allen & Overy Foundation
Barbour Foundation
Bloomberg
C Bonham-Carter Charitable Trust
CHK Charities Limited
City Bridge Trust
City of London Solicitors' Company Charitable Fund
Edgar E Lawley Foundation
Edith Murphy Foundation
Edward Cadbury Charitable Trust
Elizabeth Rathbone Charitable Trust
Evan Cornish Foundation
Eversheds Sutherland (International) Charitable Trust
Farrer & Co Charitable Trust
Goldsmiths' Company Charity
Gowling WLG (UK) Charitable Trust
Hadrian Trust
Inspiring Impact
IntraLinks
John Ellerman Foundation
Law Society of England and Wales
Legal Education Foundation
LexisNexis
London Community Response Fund
London Legal Support Trust
Matrix Causes Fund
Ministry of Justice
MJ Hindley Charitable Trust
Monica Rabagliati Charitable Trust
Oakdale Trust
Rothley Trust
Simmons & Simmons Charitable Foundation
Schroder Charity Trust
Shears Foundation
Sir James Knott Trust
The National Lottery Community Fund
Together for Short Lives
Therium Access
Trust for London
Tudor Trust
Wesleyan
William A Cadbury Charitable Trust
The Law Society
The Law Society provides domestic pro bono opportunities and training through its partnership with LawWorks. The Law Society has been a major funder of LawWorks since 2011 and currently provides about a quarter of its income.
For more information visit The Law Society website.
Contact
For more information on LawWorks' fundraising, please contact fundraising@lawworks.org.uk.
The challenge of getting the right legal advice to the people who need it most is greater than ever. The generous support of our funders helps us provide it to them.
LawWorks Fundraising Practice Complaints Process
LawWorks is committed to delivering a high standard of service to anyone who engages with our work.
We are registered with the Fundraising Regulator and therefore will always strive to promote and adhere to the Fundraising Promise to show our fundraising is legal, open, honest and respectful.
We also will endeavour to comply with the Code of Practice, details of which can also be found on the Fundraising Regulator website which sets out the standards we are required to follow when fundraising.
We are keen to hear from anyone who believes we have fallen short of the high standards we set ourselves. We therefore have a complaints process for members of the public to follow in order to bring the matter to our attention so that we can aim to resolve the issue as quickly as possible.
For further details please read our Fundraising Complaints Process and Fundraising Practice Complaints Form.
Related resources