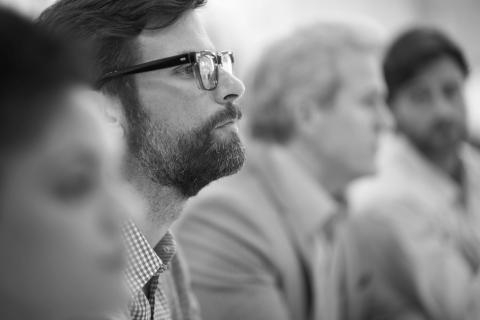 Outstanding achievement in legal pro bono was celebrated on 25th November at the LawWorks Annual Pro Bono Awards and lecture held at Linklaters LLP.
Winners were chosen in nine categories representing the breadth and range of pro bono delivery and innovation across the profession in England and Wales. The Chair of LawWorks Paul Newdick CBE QC (Hons) was honoured with an award for Outstanding Commitment to Pro Bono and LawWorks, which was presented by the Hon. Mr Justice Knowles.
Theodore Huckle QC, Counsel General for Wales who presented the LawWorks Cymru Award said, "I am in awe of the dedication and contribution to pro bono by all lawyers". The Junior Lawyers Division Award was presented by Max Harris, until recently Chair of the Young Lawyers Division of the Law Society.
Supported by Linklaters, and sponsored by Lexis Nexis and the Law Society, the Awards recognised and celebrated excellence and achievement in legal pro bono undertaken by organisations and individuals, and the dedication and commitment of the legal sector to positively impact individuals and communities.
Shami Chakrabarti, Director of Liberty, gave a thought provoking keynote speech titled 'On Liberty' and legal commentator and journalist Joshua Rozenberg hosted the event including a stimulating question and answer session with Shami.
LawWorks CEO Martin Barnes said, "This has been a truly inspiring evening and a reminder of the dedication and commitment of the legal profession to improving lives through impactful pro bono advice. Congratulations to the winners and all the shortlisted nominees for the exceptional work they are doing. I would also like to thank Shami Chakrabarti and Joshua Rozenberg for helping to make the evening such a success".
James Harper, Head of Legal for LexisNexis UK & Ireland said: "LexisNexis is incredibly proud to continue our long running association with LawWorks and honoured to be able to support the Awards which raise awareness of the fantastic pro bono projects being delivered across the country. Congratulations to all those nominated for their tireless efforts to enable access to justice".
The winners of the Awards were:
Most Effective Pro Bono Partnership – Children's Pro Bono Legal Service, Allen & Overy, Coram Children's Legal Centre and DLA Piper
Best Contribution by a Small Firm – Emma Williams Family Law
Best Contribution by a Firm with an English Regional Head Office – Muckle
Best Contribution by a Firm with a London Head Office – Duncan Lewis
Best Contribution by an International Firm – DLA Piper
Best Contribution by an In-House Team – Hilton Worldwide
Best Contribution by an Individual – Jennifer Deakin, DLA Piper
Junior Lawyers Division Pro Bono Award – Maeve Hanna, Allen & Overy
The LawWorks Cymru Award – LawWorks Cardiff Pro Bono Employment Clinic at the Speakeasy Advice Centre
Full Details of the winners can be found at the following link: LawWorks Pro Bono Award Winners

-Ends-
Notes to editors:
1. LawWorks is a Charity working in England and Wales to connect volunteer lawyers both with people in need of legal advice, who are not eligible for Legal Aid and cannot afford to pay, and with the not for profit organisations that support them and their communities.
2. LawWorks believes in the power of pro bono legal advice to improve the lives of people in need.
3. For further information about LawWorks visit: www.lawworks.org.uk.
4. Join the conversation about the awards on Twitter using #LawWorksAwards.
5. Press Contact: Valerie Hudson t: 0207 092 3952 e: [email protected]
News features