Clare Carter (Programme Director) and Ella Playfair (Network Development Manager) of the Litigant in Person Network provide an update and insight into the Litigants in Person Strategy.
The Litigant in Person Support Strategy (the Strategy) was launched in October 2014 in response to the increasing numbers of vulnerable people facing the prospect of court proceedings without advice or support. The Strategy is a collaborative project involving Law for Life, LawWorks, Personal Support Unit, RCJ Advice, Bar Pro Bono Unit and the Access to Justice Foundation, funded by the Ministry of Justice. The Strategy is overseen by an independent advisory council drawn from across the legal, advice, academic and public sectors.
In the next three years, it is estimated that 50% of people in England and Wales will experience a civil justice problem. [1] Many of them will not be able to pay for legal advice or representation, for example, in 80% of family cases at least one party is unrepresented. The organisations involved in the Strategy are all focused on helping those who can't access legal help for whatever reason.
The Strategy aims to help vulnerable people to access justice in three ways:
Providing online and self-help resources and ensuring that the right people know where they are and how to access them
Providing practical and emotional support
Providing access to free or affordable legal advice wherever possible
We are working together to ensure that our collective limited resources are focused where they are most needed. The Strategy relies on those who can self-help doing so to preserve valuable face to face individual help for the most vulnerable. Through the provision of quality online resources, development of support services and access to legal advice, we provide a comprehensive framework of support to those who need it, at every stage of their journey through the legal system.
Since 2014 we have worked together to improve the lives of vulnerable people facing court proceedings. Our achievements include providing resources to over a million people via the Advicenow website, supporting the provision of free legal advice to 53,000 people (per annum) across the LawWorks Clinics Network through pro bono advice sessions, and providing practical and emotional support to nearly 50,000 litigants in person (per annum) at court through the Personal Support Units. As well as directly providing services to vulnerable people, the Strategy works with the legal professions, advice sector, HMCTS, judiciary, academics and broader voluntary sector support services to ensure that vulnerable people who may be facing court proceedings know how to access good quality resources, support and advice to resolve their problems as swiftly as possible.
Our plans for 2017 & 2018 are to reach even more people than before through developing new partnerships, sharing learning and evaluating our progress so that we are providing resources, support and advice to the most vulnerable people in England & Wales in the most cost effective way possible.
We are also launching a new initiative this year: the Litigant in Person Network.
The Litigant in Person Network
We are currently developing an online network aiming to connect those with a common goal of improving access to justice for those without means. This group includes the advice sector, legal professionals, academics, members of the judiciary, court and tribunal staff (the Network). The Network is for professionals, rather than litigants in persons themselves, and we hope people will continue to direct LIPs to the existing resources. The site aims to create a sustainable online community in order to stimulate cross-sector dialogue, avoid duplication and encourage knowledge exchange. We hope that through cross-sector networking, collaboration and shared and creative thinking, the 'Community' will be stronger and more effective in meeting the needs of LiPs and potential LiPs.
The new website will provide a central platform from which to disseminate information on projects, resources, research and other content relating to access to legal advice and the legal system. This includes public legal education, legal aid provisions, pro bono, legal advice and clinics, courts and tribunals, academic research and much more. The Network doesn't represent a single voice and we hope that the majority of material will be written by the Network. However, if members are short on time we will be offering a phone-to-blog service involving a short phone call which will allow us to produce a blog on their behalf. Alongside this, there will be a private 'noticeboard' area, where members can post questions, make comments and respond directly to other members. A summary of new Network content and noticeboard posts will be circulated to members via a fortnightly newsletter.
We have been working hard over the last 3 months to ensure that we create a website that is built not just for, but by, the Network. Over 30 interviews and workshops were conducted and we are now in the process of user-testing the website. We have secured funding from the Legal Education Foundation to develop and pilot the platform for a year, with the support of a 3 day a week staff member.
We are hoping to launch the website in March 2017, however our Newsletter is already up and running. If you would like to join the Network please email Ella at ellaplayfair@atjf.org.uk.
Additionally, if you are a professional working in the field and would to contribute to the Network, we are looking for content about projects, resources, research, relevant developments and events related to access to justice for those without means. This could be anything from a short blog post on a successful (or unsuccessful) project, to a link to a website, tool or research paper.
Clare Carter is the Programme Director and Ella Playfair is the Network Development Manager of the Litigants in Person Support Network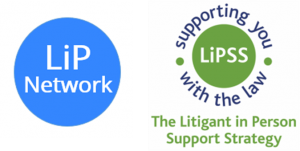 Footnote:
[1] Legal Needs, Legal Capability and the Role of Public Legal Education – Law For Life October 2015
News features