LawWorks supports and develops pro bono activity across England and Wales, using our experience and understanding to help ensure pro bono efforts are targeted where they can be most effective and have the greatest impact.
Why LawWorks?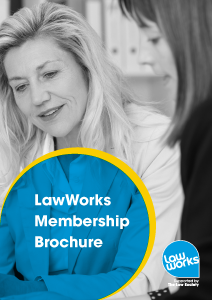 LawWorks is the country's leading pro bono charity for solicitors.
We support member organisations to achieve high quality pro bono work by collaboratively developing impactful programmes that fit with their CSR objectives and engage their whole team.
Regardless of the team's areas of expertise, LawWorks can develop and provide pro bono opportunities, training and support.
Why do we exist?
We believe that access to justice is a right, not a privilege.

Pro bono can contribute towards enabling access to justice and improve people's lives. Although pro bono is not, and should not be seen as, an alternative to legal aid it can make an important contribution.

We help support the provision of an 'infrastructure' for pro bono, to facilitate legal volunteers connecting with those in need of legal advice.
Download our

membership brochure.
Some benefits of LawWorks membership include:
Access to advice on delivering pro bono (including resources on our website);
Help with setting up a pro bono clinic from a dedicated team;
Exclusive access to our Not-for-Profit programme that allows 'pre-packaged' pro bono for charities and community groups;
Professional indemnity insurance to cover in-house legal team's pro bono work conducted as part of our programmes;
CPD accredited legal and professional skills training from expert trainers;
Networking opportunities, including the LawWorks Pro Bono Forum, roundtables and conferences;
Our weekly news awareness bulletin 'LawWorks Weekly';
​Recognition of pro bono work and innovation at the annual LawWorks pro bono awards;
The opportunity to inform and shape policy on issues relating to legal pro bono, and the challenges faced by individuals, communities and organisations.
Please see 'About Us' to find out more about our work.
To discuss membership please complete the form below.