We are passionate about enabling access to justice. Join LawWorks and become part of a network of 150 law firms, in-house teams and organisations committed to providing access to justice for the most vulnerable in our communities.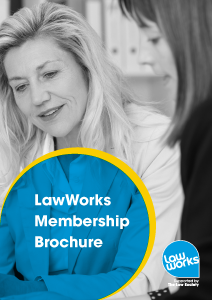 Membership for your firm, in-house team or organisation

Download our membership brochure
By joining LawWorks you will be supporting our charitable work to encourage, support and celebrate pro bono, and also our work to highlight - and address - barriers to accessing justice. The financial contribution of our members is vital.
While pro bono is not, and should not become, an alternative to legal aid - it makes an important contribution to accessing legal information, advice and representation.
Our annual membership fee also provides membership for all of your lawyers, staff and volunteers - and gives them free access to all of our services including:
Help with setting up pro bono initiatives and clinics from a dedicated team
Our popular Not-for-Profits programme that connects pro bono solicitors with smaller charities needing legal advice. As a member you receive researched and prepared cases, based on your area of interest and expertise, and we are always on hand to help
Our weekly news bulletin 'LawWorks Weekly' and a quarterly newsletter
Professional indemnity insurance to cover in-house legal team's pro bono work conducted as part of our programmes
Our legal and professional skills training from expert trainers (and online resources - including recordings of training sessions and associated materials)
Networking opportunities, including the LawWorks pro bono forum, roundtables and events
Recognition of pro bono work at the annual LawWorks Pro Bono Awards
The opportunity (if you wish) to support our work to influence positve policy change.
Find out more about our work.
How much does it cost to be a member?
The fee depends upon the size of the firm - with other categories for in-house teams and organisations.
To apply for membership please complete the application form. Membership brings no obligation - but by joining you will be supporting our work to enable access to justice.
If you are interested in supporting our work but do not wish to become a member, do get in touch. Our CEO, Rebecca Wilkinson, can be contacted at: rebecca.wilkinson@lawworks.org.uk
Find out more
To discuss membership please complete the form below.