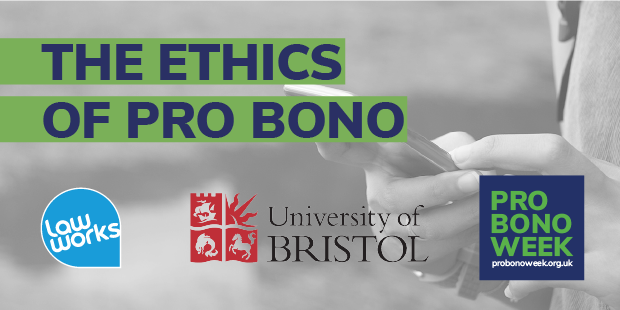 A half-day Seminar with LawWorks, and University of Bristol Law School, held in Pro Bono Week. Tuesday 3rd November, 9am – 12pm.
"For the things we have to learn before we can do them, we learn by doing them"

Aristotle, Ethics
This half day seminar, run jointly by LawWorks and University of Bristol Law School looks at the ethics of pro bono. The notion of ethics we are addressing here goes beyond the "codes of conduct" that bind the legal professions, and the seminar will discuss the moral principles and motivations of working to improve access to justice through clinics and clinical legal education, as well as the practical challenges of ethics for pro bono clinics, and policy considerations.
It will be of value to all those (whether you're a researcher, clinic co-ordinator or practitioner) interested in ethical questions that may arise in a pro bono context - both in theory and practice.
9 am - Introduction/welcome
9.15 – 10.15am – Panel session 1: Doing legal ethics
Every day pro bono clinics put ethics into practice – helping for free those needing legal advice, responding to a growing need, and serving the public good ("pro bono publico"). The introduction session will hear reflections on the ethics of pro bono, and the positive story that clinics have to tell.
Break
10.30 – 12pm - Panel session 2: Clinical practice in an ethical context
Running pro bono clinics can be challenging, there are issues of regulation, university governance, training, support and sustainability to navigate – ethics matter, clients matter, and volunteers matter. The panel will discuss practical challenges within an ethics landscape, and panelists will consider how ethics, standards, regulation and education intersect.
Panelists may then move into smaller Q & A breakout rooms with attendees to discuss these issues in more detail, raise challenges, air frustrations and consider solutions.
11.50 am – 12pm - Wrap up, next steps and close
Details
Event date:
Tuesday, November 3, 2020 - 09:00
Registration link