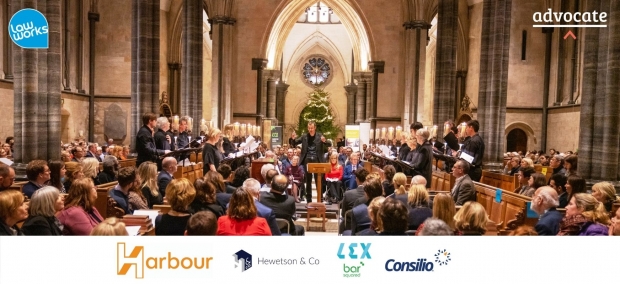 Join us for an online carol concert viewed in the comfort of your own home.
Advocate and LawWorks will be jointly hosting an online carol concert on Tuesday 15 December 2020 from 6.30 to 7.30pm.
While the new national lockdown restrictions mean that the concert cannot be filmed in our usual venue, Temple Church, we shall be including all the usual items such as carols sung by chamber choir Collegium Musicum London, musical performances by solo harpist Gwenllian Llyr, and readings from Cherie Blair CBE, QC, The Rt Hon David Lammy MP and Stephen Mangan.
Tickets for the event are available to purchase on TapSimple at a cost of £10 (or £5 for concessions including unwaged and students). We are also running a luxury raffle with tickets priced at £5 and you can make a donation from the event website.
We are extremely grateful to our sponsors:
Headline Sponsor

Supporting Sponsors



Details
Event date:
Tuesday, December 15, 2020 - 18:30
Registration link