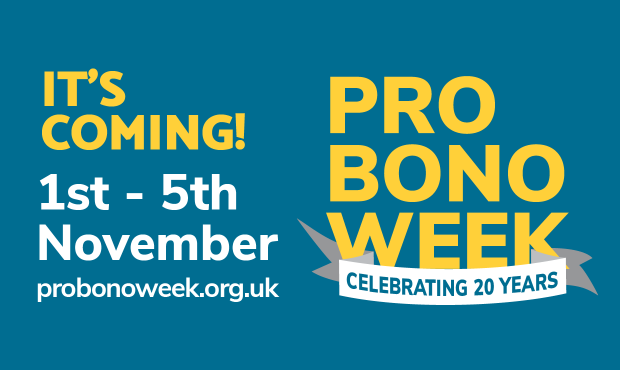 The 20th annual Pro Bono Week will take place this year from 1st to 5th November.
The 20th annual Pro Bono Week will take place from 1st to 5th November, offering an opportunity to recognise and support the voluntary contribution made by the legal profession and law schools across the UK in giving free legal help to those in need.
This milestone anniversary will be an opportunity to look ahead to the next twenty years of pro bono whilst also shining a spotlight on some of the key moments and cases from the past two decades.
During Pro Bono Week organisations are encouraged to organise events, initiatives, activities and publications which focus on:
Celebrating pro bono: commending those who give back and recent successes in pro bono.
Pro bono pathways: exploring the different ways lawyers can volunteer throughout their careers.
Effective pro bono: sharing best practice and discussing what makes an effective pro bono service.
For more information and support visit www.probonoweek.org.uk.
Details
Event date:
Monday, November 1, 2021 - 08:00
to
Sunday, November 7, 2021 - 17:00
Location
Venues across the United Kingdom and online
United Kingdom
GB