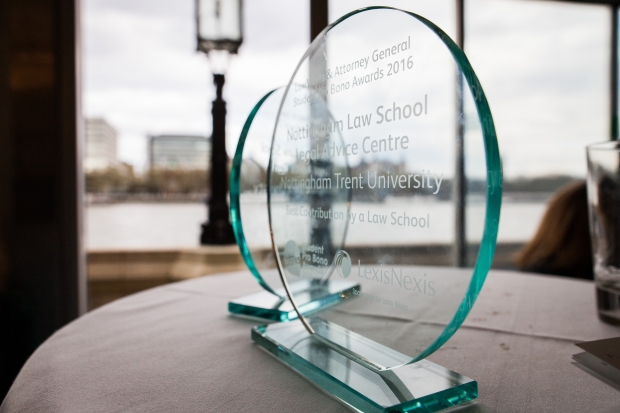 Nominations are now open for the LawWorks and Attorney General's Student Awards 2017
The eleventh annual LawWorks & Attorney General Student Awards will be celebrated at an awards ceremony on Wednesday 26th April in the House of Commons.
Hosted by the Attorney General, Jeremy Wright MP, the Awards celebrate the best pro bono activities undertaken by law students and law schools and the positive impact those activities have had on those who have been assisted.
The awards incorporate the Access to Justice Foundation Award for an educational body or student which has made a significant contribution to promoting access to justice. To find out about the award and how to nominate please visit: http://www.atjf.org.uk/the-atjf-award.html
The winners of the LawWorks and Bar Pro Bono Unit Law School Challenge 2016/17 will also be presented with an award at the event. Find out more about the Law School Challenge at: https://www.lawworks.org.uk/solicitors-and-volunteers/get-involved/law-schools-and-student-pro-bono/law-school-challenge
Student Pro Bono Awards: Nomination Categories and how to nominate
We would like to hear about those people and projects that have made a real impact in the past year at your law school. In response to the award categories listed below, please nominate any person or group that has, in your view, carried out fantastic pro bono work and made a valuable contribution.
The categories for the 2017 awards are:
Any law school or individual can nominate itself or others for one or more of the categories listed. If you would like to nominate for more than one category, please complete a separate form for each nomination.
The deadline for submission of nomination forms is midnight on Monday 20th March 2017. Please note that under no circumstances can we accept late entries.
Find out more
To find out more about the nomination process please visit: https://www.lawworks.org.uk/solicitors-and-volunteers/get-involved/lawworks-attorney-general-student-awards-2017/nomination or download the Nomination Information document below (see Related Resources)
Awards Criteria
All nominations must satisfy the following criteria:
Participation – there must have been actual participation by the nominee(s) in at least one pro bono activity.
Pro bono protocol – The pro bono work must have been carried out in line with the Pro Bono Protocol.
Quality & impact – you must provide information on the quality of the legal pro bono work done and the impact that it has had on those who have been assisted, accepting that a student may not necessarily have the depth of involvement or experience that a practitioner might have.
Legal advice clinic – if your nomination includes reference to a legal advice clinic, we ask that the clinic is a member of the LawWorks Clinics Network (or joins the Network by 10th March 2017).
Commitment and innovation – student and law school involvement will be assessed for personal commitment and the innovation involved in the project.
Qualifying period – activities must have been carried out substantially during the 16 months running up to the 20th March 2017 nomination deadline.
Judging and the Awards Event
We are delighted that the Attorney General, The Rt Hon Jeremy Wright QC MP, will be presenting the Awards and that the ceremony will be hosted by His Honour Sir Robin Knowles CBE.
The judges for the 2017 Awards are:
Joe Egan, Vice-president of the Law Society;
Isla Grant, Senior editor, LawCareers.Net;
Tom Laidlaw, Head of Academic and Public Sector Marketing, LexisNexis; and
Alison Padfield, Co-Chair of the Bar Council Pro Bono Panel.
Get in contact
All queries about the Awards should be addressed to James Sandbach (Director of Policy and External Affairs): [email protected] – 020 7092 3943, or to Martin Barnes (Chief Executive): [email protected]
We look forward to receiving your nominations!
The LawWorks and Attorney General's Student Pro Bono Awards are sponsored by

Related resources