Nominations are open for the LawWorks and Attorney General's Student Awards 2020.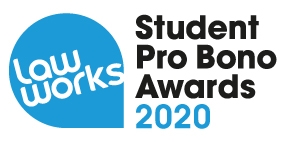 The annual LawWorks and Attorney General Student Awards will be celebrated at an awards ceremony on Wednesday 29th April at the House of Commons.
Hosted by the Attorney General, the awards celebrate the best pro bono activities undertaken by law students and law schools and the positive impact on those assisted. The awards incorporate the Access to Justice Foundation award for an educational body or student which has made a significant contribution to promoting access to justice. The winners of the Advocate and LawWorks Law School Challenge 2019 – 2020 will also be presented with an award.
The LawWorks and Attorney General Student Pro Bono Awards are kindly sponsored by LexisNexis.
Nomination categories and how to nominate
We would like to hear about those people and projects that have made a real impact in the past year at your law school. Please nominate any person, team or law school that has, in your view, carried out fantastic pro bono work and made a valuable contribution.
The categories for the 2020 awards are:
Best New Pro Bono Activity;
Best Contribution by an Individual Student;
Best Contribution by a Law School (Undergraduate and Postgraduate institutions);
Best Contribution by a Team of Students.
Any law school or individual can nominate itself or others for one or more of the categories listed. If you would like to nominate for more than one category, please complete a separate form for each nomination.
Make a nomination Read the nomination guidance
The deadline for submission of nominations is midnight on 17th March 2020.
Please note that we can not accept late entries.
Judging and the awards event
All of the short-listed nominees will be invited to attend the Awards ceremony at the House of Commons on 29th April, 4.00pm – 6.00pm (due to capacity at the venue, there may be a limit on the total number able to attend on behalf of any nominated law school or team).
We are delighted that the Attorney General will be presenting the Awards.
The judges for the 2020 Awards are:
Peter Farr, Head of Civil Law Policy, Ministry of Justice;

David Greene, Vice President, the Law Society of England and Wales;
James Harper, Executive Sponsor, Rule of Law and CSR for LexisNexis UK & Ireland;
Joshua Richman, Senior Editor, LawCareers.Net;
Leanne Targett-Parker, Chair, Bar Council Pro Bono Committee.
Need to get in touch?
If you have a question about the awards, please contact:
Peter Jackson, Communications Officer, 020 7092 3952
James Sandbach, Director of Policy and External Affairs, 020 7092 3943
We look forward to receiving your nominations!
The LawWorks and Attorney General's Student Pro Bono Awards are sponsored by: