" If someone's life is in turmoil and they can get over a legal hurdle that might be them set up for life. That's why I am doing the Appeal." Clive Anderson, LawWorks Appeal Presenter
LawWorks is pleased to announce that award winning presenter and comedy writer Clive Anderson will be presenting our BBC Radio 4 Appeal.
As we celebrate our 20th Anniversary this year, we hope the Appeal will raise valuable funds to support our work and help us reach more people.
The Appeal will broadcast on Sunday 22nd January 2016 at 7:54am and will be repeated at 9:26pm.
The Appeal will broadcast again on Thursday 26th January 2016 at 3:27pm.
Trish's story
During the Appeal, you will hear the story of Trish, a 59 year old grandmother who has been caring for Billy, her 18 year old grandson, since he was 3 (these are not their real names). Billy is severely disabled and is blind, autistic and has epilepsy. He is unable to get dressed alone, feed himself without support, is incontinent and can only communicate by crying when he is hungry or in pain. Nights are very hard for Billy as he often wakes up and is unable to get back to sleep again.
Life became more difficult for Trish as Billy grew bigger and she realised that she needed more help. However, when he turned 18, Trish found that she had somehow been lost in the system. She couldn't afford to pay for a lawyer and didn't qualify for legal aid and so had difficulty in making herself heard for several months.
How a LawWorks volunteer lawyer helped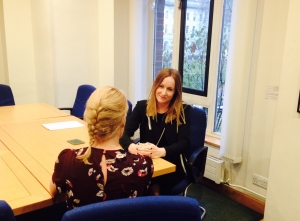 Things changed when Trish met Nicole (pictured above), a volunteer city lawyer from Clyde & Co, who had been trained by LawWorks to advise people in Trish's situation. Trish met Nicole in a local children's hospice where she sometimes takes Billy for respite care. Nicole, who was volunteering at the hospice, listened to Trish's story and was able to correspond with the NHS, making the legal case for Billy's exact needs. Billy now has extra night-time respite care every week and an escort on Saturdays who takes him to a day centre for trampolining and swimming which he loves. Finally, Billy also receives five hours of care on Sundays which means that Trish can recharge her batteries and spend time with friends to find the emotional help and support she needs.
More about our work
Legal advice and representation can change lives for the better. In its absence, problems can escalate or multiply and have devastating effects on individuals and their families. LawWorks connects lawyers volunteering their time and expertise with people in need. We believe that free and timely legal advice can make a positive impact on the lives of people who would otherwise not be able to pay for a solicitor and who no longer qualify for legal aid.
We support over 220 independent legal advice clinics across England and Wales where vulnerable individuals with low incomes can receive free legal advice on the issues most important to them, such as housing, debt, employment and family law. Our overarching objective is to maximise the resources available to enable the poor, the vulnerable and excluded to access justice. Examples of people volunteer lawyers help with include:
* A young couple unable to get their landlord to undertake essential repairs.
* A nurse who has worked in the NHS for 20 years cannot rent a new house because her immigration status has not been regularised.
* A person in debt who has started suffering from severe anxiety and depression and is in danger of losing his house and his job.
* A disabled person who has lost their benefits after having been wrongly assessed as fit for work.
* A mother of young children with limited English proficiency who is the victim of abusive partner.
Find out more about the LawWorks Legal Advice Clinics Network: https://www.lawworks.org.uk/legal-advice-individuals/find-legal-advice-clinic-near-you
Shelter from the Storm
Another example of what we do is at Shelter from the Storm (SFTS), a homeless shelter in Islington. LawWorks helped to set up a partnership between SFTS and Islington Law Centre to establish a legal advice clinic which operates from the SFTS premises. Open year round, it offers hot meals and warm beds for homeless guests. This service is provided free of charge and the shelter relies exclusively on the support of volunteers and donations to survive. The shelter supports over 40 guests at any one time and many of them need legal advice.
In many cases the legal problems faced by the shelter guests have directly contributed to them finding themselves in a position of homelessness and therefore finding legal support to address the original problem is a matter of huge consequence for the person concerned. By way of example, as a result of legal advice received at a clinic session, one guest was able to secure social housing the very next day. Apart from providing a tremendous outcome for the guest, this also frees up a bed in the shelter which can then be provided to another person experiencing homelessness. SFTS is an example of an independently run clinic in the LawWorks Clinics Network.
British Acoustic Neuroma Association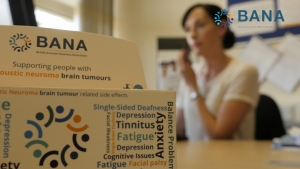 As well as assisting individuals, LawWorks also helps small not-for-profit organisations that need legal advice but struggle to pay for it.
British Acoustic Neuroma Association ("BANA") is a small national charity that supports people affected by rare benign brain tumours that can affect balance, hearing and facial function. As the condition is quite rare and many people have not heard of it, patients can often feel isolated when initially diagnosed.
BANA approached LawWorks for assistance as it did not have sufficient funds allocated to pay for legal advice. As a result of the legal support, BANA has been able to progress its plans to change its structure and the charity reports that the advice they received "helped to potentially save the organisation".
Find out more about support for small not-for-profit organisations: https://www.lawworks.org.uk/legal-advice-not-profits
Please help us reach some of the most vulnerable people in society
A donation of £30 will help LawWorks to train more volunteers or set up new clinics for people who are struggling with legal problems.
Bigger donations will help us reach even more vulnerable individuals and the charities that support them and every donation will make a difference.
You can give now either online via the Radio 4 website by clicking on the following link: http://www.bbc.co.uk/programmes/b006qnc7 or by calling 0800 4048144.
Or you can write a cheque to LawWorks and send it to Freepost BBC Radio 4 Appeal and, importantly, please mark the back of your envelope 'LawWorks'. Whatever you can give will change a life.
Listen to Clive explain why he is supporting LawWorks
Help us spread the word
We hope you will listen to the broadcast and donate to support our work. Please help us by spreading the word and telling your family, friends and colleagues!
Join us on Social Media.You can find us on:
Twitter: https://twitter.com/Law_Works
Facebook: https://www.facebook.com/LawWorks
LinkedIn: https://www.linkedin.com/company/3082110